Collector System Software Application Solutions For Property Management
D2R–Collect is a solution for property management companies as all your data will be in the cloud with 24/7 access. Smoothly integrates with existing systems. Reduce worries and concentrate on what matters most: ensuring properties are managed well.
D2R–Collect is an intelligent SaaS recovery application designed by a team of collection experts that help you collect rent, damages, parking and lockers more effectively.
Our clients in the Property Management industry have reduced aging receivables; significantly improved success rates in collecting bad debts and can manage more accounts using D2R–Collect.
How can D2R–Collect help your Property Management Business?
Cloud based application allowing you to manage your collections anytime anywhere
All in one application connecting your data such as notes and documents together so you can spend your time efficiently.
User friendly application with easy navigation and flexibility in managing workflow
Set Schedules and reminders to communicate with tenants for rent collection
24/7 dedicated support team to answer all your questions
Schedule a live demonstration with D2R–Collect, the solution for your rental collection needs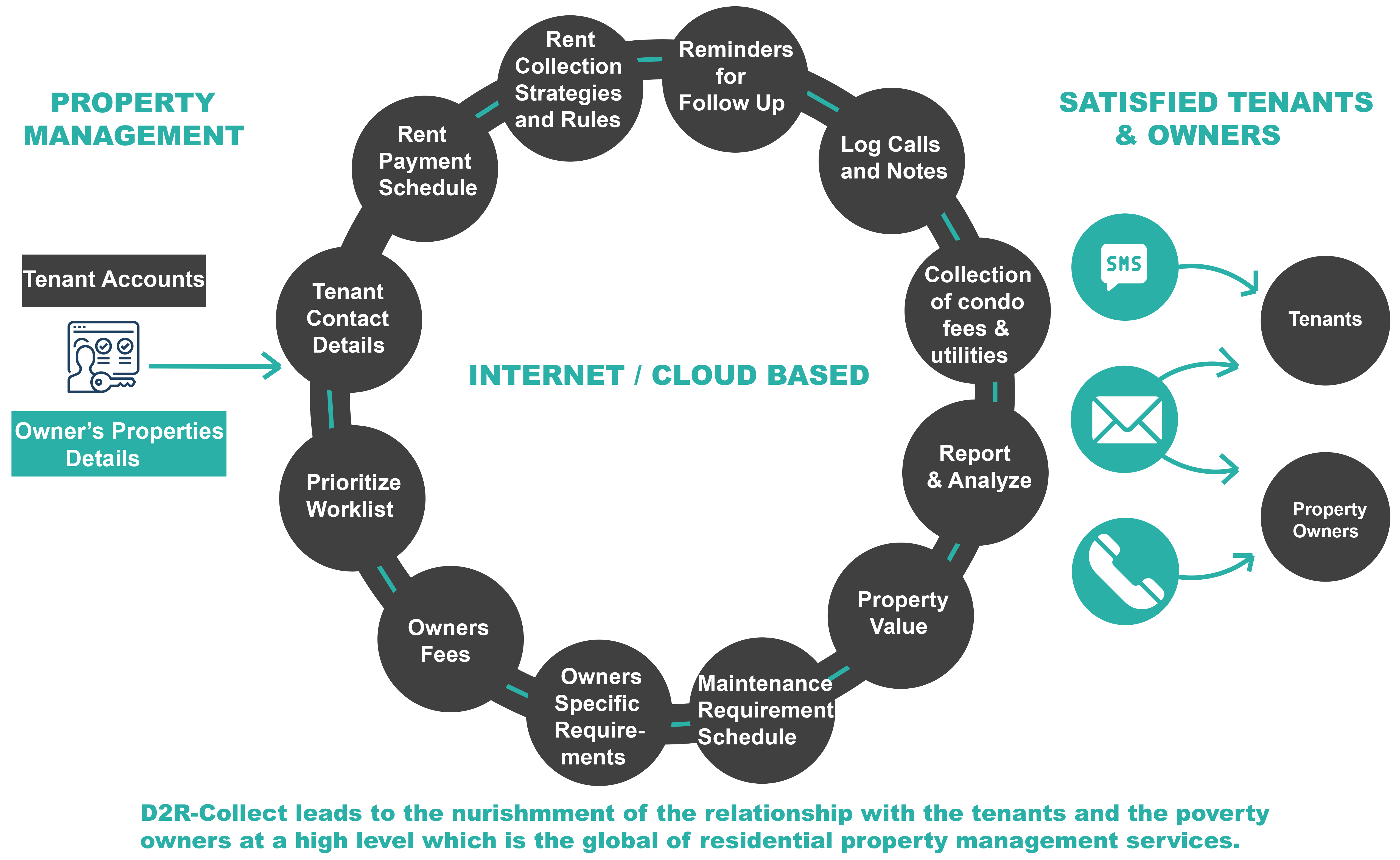 Testimonials from our Clients
As a company, we were looking for a scalable solution to integrate into our business. 

D2R

–

Collect

 matched most of our needs 'out of the box' and the team worked with us in order to implement a few changes that we requested. Initial training was provided online, supported by an excellent suite of quick start video tutorials. We have found the software solution to be excellent value, and the team at 

D2R

–

Collect

 very helpful in assisting us with our ongoing needs.
"…After evaluating many different collection software titles, I found D2R–Collect to be an easy decision. Simple to begin with, functional to administer and powerful to grow with.
D2R
–
Collect
has and continues to fulfill their promise to deliver the best collection software package available today and we are proud to be a client".