CIAL Dun & Bradstreet and D2R-Collect have joined forces to deliver an effective and efficient Debt Recovery Solution for its team of Collection Agents across Latin America. This relationship enables CIAL to provide its thousands of clients with an intelligent, user-friendly debt recovery platform, and for D2R-Collect to enhance its reputation as a market leader in collections technology.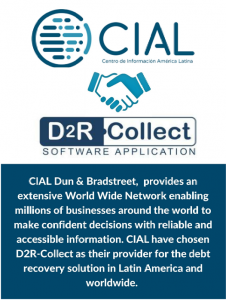 CIAL Dun & Bradstreet is uniquely positioned to enable millions of businesses to make confident risk decisions with reliable and comprehensive information. With a strong presence across 43 countries in Latin America and the Caribbean, CIAL is committed to the long-term economic success of the region and its businesses. CIAL combines cutting edge data science, technology and analytics to provide unparalleled insights into +40 million companies across Latin American and the Caribbean, supported by 170 years of legacy from Dun & Bradstreet.
D2R-Collect is a FinTech SaaS application that helps organizations recover their debts by accelerating the debt collection process leading to higher recovery rates. D2R-Collect has been serving collection agencies, enterprises, and AR departments with innovative recovery technology to accelerate the collection process boosting healthy cash flow. The collection recovery software has been developed alongside a team of collection experts marshaling their idealistic depiction of a perfect collection platform.
D2R-Collect was specifically designed to focus on collecting more debt and decreasing collection time lag, enforcing local collection compliance, and in accordance with the needs of your business. D2R-Collect can be used to collect securely from any device and on any operating system. All you need is an internet connection to accelerate your collections process today.
Social Media Post